VeeTrack's customized, keyword-specific tracking of print and online news is designed to provide valuable information on your industry standing, competition, issues, markets, trends, and insights into the future.
Specific keywords are chosen for media tracking after discussions with you.
The news clips are tracked for your company, competition, and the industry.
News is tracked and uploaded to our online portal everyday at 9:30 a.m.
You can access the data using a personal username and password. All information is archived for easy retrieval at a later date.
A Daily Media Monitor with these clips is delivered via email to you at 10 a.m. daily.
The summary of number of news clips tracked for the day is available on your online account.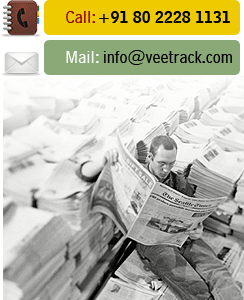 To learn more about our Media Monitoring and Analysis Services, read our Services section, or Contact us.