VeeTrack enables its clients to monitor their needs across a pan India geo, in print and web media currently. Professionals from twelve cities monitor 400 editions of 137 news and business dailies, 90 magazines and over 68 e-news and online channels to provide relevant and timely information to our clients. We also track language editions of various national language newspapers.Working in partnership with our clients, our products and service portfolio offers syndicated and customised media monitoring and analysis solutions.
VeeTrack also provides an archival facility of the Media Reports and sends a Media mail directly to your mail box each day by 10am IST.
Our Mission: At VeeTrack, our mission is to provide our clients with Integrated Media Solutions that contribute significantly in developing success strategies while helping protect against competitive threats.
Our Goal: To be inclusive, that is, professional and personal in meeting every need of our clients. VeeTrack considers inclusiveness as a must to sustain the emerging corporate environment.
Our Values: We strongly believe and apply best practices in being accountable, collaborative, and accommodate diversity.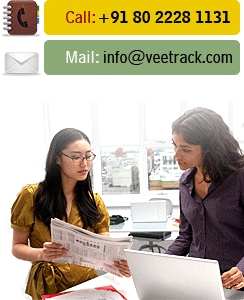 Industries and Sectors: VeeTrack covers a wide range of industries and sectors, delivering value and quality services to clients across the length and breadth of the country.
IT/ITES
Telecom
Education
Banking
Finance/Investments
Insurance
Real Estate
Retail
Power
Energy
Infrastructure
Utilities
Logistics
Auto
Defence
Aviation
Healthcare
Lifestyle
Hospitality