5 media monitoring strategies to leapfrog your direct brand competitors
If You are a smart brand, the first thing you will do is analyze your competitors. In order to bring your business to a good visibility, monitoring your neighbors' business is essential.
You need to monitor their social media strategy, how they function with their stakeholders, how they strategize their PR. One of the best ways would be to focus highly on the way customer complaints are dealt by your competitors.
Through this process, you are well aware if your plan is sound or would require some changes. Once you are up and running in the competition, all you need is to remain consistent to stay on top. All you need is to put a plan and shape it up. Let's look at some 5 strategies that could help leapfrog your brand from your competitors.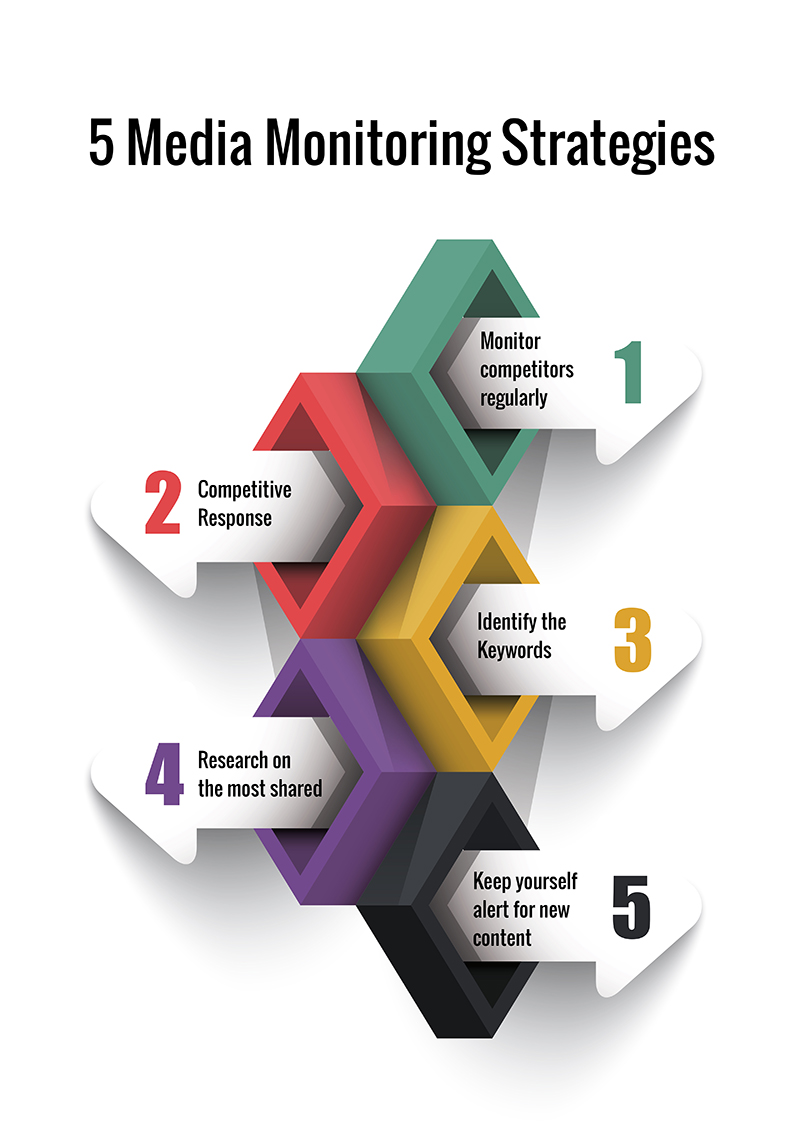 1. Monitor your competitors regularly
Certain marketing actions have to be taken by all companies in order to become visible. The present day trend is to go online and create websites and initiate social media strategies, and creating many more print, broadcast, and media strategies. The plan is to create content that's available in all forms for your visitors to access.
2. Competitive Response
In case the marketers do their job perfectly, receiving a good brand attention and value for your service, product or solution, your competitor too would gear up to make a mark with their products. There would be a lot of muck throwing, maybe cheating your marketing strategies, or even getting down to copying your product and service.
There are those who figure their competitors move only after it is announced. This takes the entire team into a frenzy trying to figure out in the last moment what strategies to adopt. The best would be keep a continuous tap on your competitors so that your are armed with counter strategies to meet up the exigencies.
3. Identify the Keywords your competitors are targeting
There are various keyword tools that help you with competitor analysis. Whether it is paid search or organic ranking, once you understand which keywords they are using to rank, it gets easy for you. Use the strategies carefully and create your content as such that those of the keywords that have brought your competitor to the forefront gets you to the top as well.
4. Research on the most shared content of your competitors
Again there are sites that allow users search what are the most socially shared write-ups based on topics and brand. You need to enter the keyword or subject and you receive content based on popularity. This would allow your competitors' performance to be monitored and consider the strategies you too should adopt to grow up the ladder.
5. Keep yourself alert for new content
Media monitoring services provides alerts as easy and free way to monitor your competition. Set certain keyword alerts and monitor regularly to figure which ones are appearing regularly. Also create some alerts on branded keywords to monitor your competition. It would be wise to create some notifications for some of your branded keywords to track audience response and help in managing brand reputation.
These are some of the strategies that can help you track your position online and also understand where you stand in terms of your competitors. There are umpteen other strategies that could take your brand to the top and help you maintain your brand visibility and online presence.