Today, companies are not measured solely by the quality of their goods and services or by the strength of their advertising campaigns or sales force. In today's world, companies are often measured by their brand's reputation online. As this growing pressure on the corporate environment and the brand increases, it is vital for businesses to stay ahead of the knowledge curve.
Partnering with the right research, monitoring and media tracking company makes all the difference in the world. The right choice allows any company to plan and improve brand and marketing communication as needed or modify advertising campaigns and public relations efforts instantaneously based on public opinion detected across social media channels. At Vee Track, our team of highly qualified professionals and our innovative proprietary technology work overtime to ensure that your needs are met 24/7.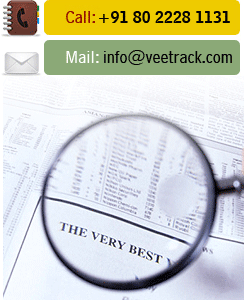 Key Services worldwide

Media Monitoring:
Keep track of the online reputation of any organization, product or service and stay one step ahead by following the latest industry happenings which could directly or indirectly impact an organization's decisions.
B2B and B2C media monitoring is vital to every organization
Changes to media strategy during crisis, product launches and events are simplified through proper and consistent monitoring. Companies who monitor are the quickest to take corrective media strategy actions if required to avoid PR disasters.
VeeTrack reports provide article coverage details, sentiment and key takeaway analysis (based on target country, this might include traditional and digital media sources).
Media Measurement:
Synthesize the tremendous amount of data and news in media monitoring reports and coverage (over a specific time period) to discover not only WHAT is being said but what that means to an organization, such as:
Spotting trends
Prominence and dominance analysis
Marketing message penetration (possible by campaign, market, demographic)
Quantitative and qualitative metrics critical for making informed decisions. The focus for critical decision making could include marketing, branding, advertising, product development and consumer targeting strategies.
Lists of key influencers and opinion leaders in the digital space. This is ideal information for developing advocacy groups and approaching potential evangelists.
Media Engagement:
Offer the best customer service in the industry with VeeTrack's minute-by-minute satisfaction engagement and reporting service. Our dedicated online customer support teams are on top of your customer's needs 24/7 throughthe moderation of and scanning for grievances, escalations and more. Benefits of combining engagement + monitoring + measurement include:
360° view on the satisfaction of any number of target audiences
Heightened control over online conversations as a result of focused seeding and communication
Market and Competitive Intelligence:
Take media monitoring to the next level and stay ahead in the game through the smart analysis of market, industry and competitor activities. Market and competitive intelligence offers:
Key benchmarking metrics required by organizations to make strategic decisions such as market development, new product introduction, partnership & alliance, merger & acquisition and regulatory governance.
Industry snapshots, including market size, competitive environment, key marketing & market oriented initiatives, plus other strategic management frameworks.