Media Monitoring - The Ultimate Guide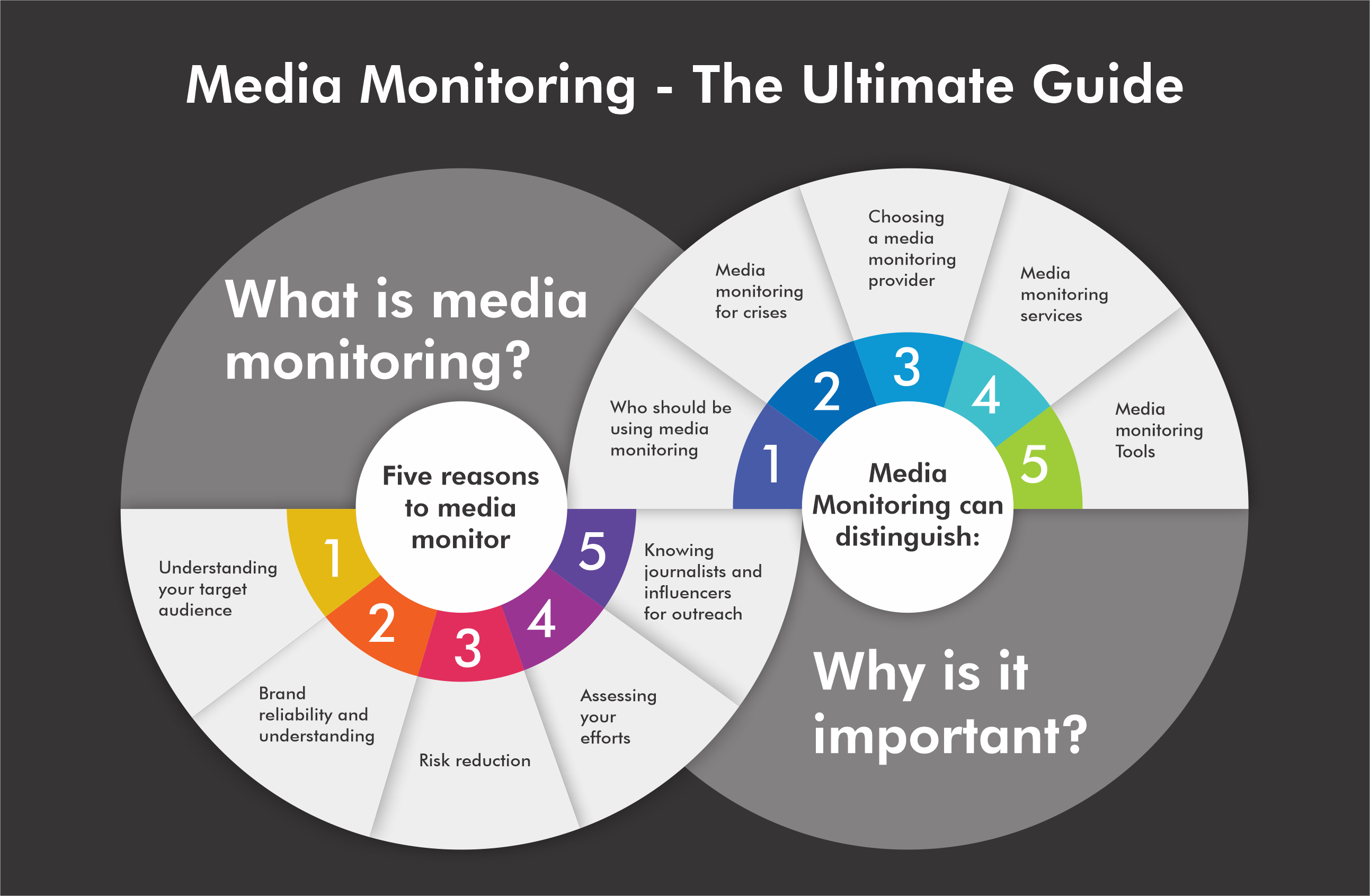 Media Monitoring is important for critical analysis and response. Media Monitoring tracks and analyzes media activity, such as news reports and information on blogs, newspaper articles, TV channels, video postings, and more. The results can be used to form a media strategy, identify key influencers and opportunities for engagement. Media Monitoring is crucial in today's world of content proliferation. It provides a better understanding of events that may affect communications and policy, allows efficient and timely response to critics, and helps to shape key messages.
What is media monitoring? Why is it important?
Media monitoring is a practice used by marketers as a way to track how their company, products, and services are performing with different media outlets. A good name search can expose your company to new influencers and potential partnerships. A comprehensive media monitoring program can help you find the best channels for presenting your company in a positive light.
Media monitoring has been the buzzword for several years now, but do you know what it is? In this article, I'll explain what media monitoring is all about and give a few examples of how some companies have used it to reach a wider audience.
Five reasons to media monitor
There are many reasons why you should media monitor. The benefits of media monitoring can be life-changing for both your career and business. Here are five reasons why you should start media monitoring now.
Understanding your target audience
Understanding your target audience is a critical part of the content marketing process. Knowing who are your target audience is crucial. Media monitoring helps you to find out your TG and work towards it. This is because it will help you to create content that speaks directly to them. This, in turn, helps you to appeal to their needs and wants and form meaningful relationships with them. It's important to remember though that not all content is created equally so you will want to consider different factors when it comes to your audience. If your goal is to grow your email list then, for example, you may want to write blog posts that speak directly to people who are subscribers and offer them something special.
Brand reliability and understanding
Media monitoring is the best crisis management tool that any small business can turn to, while managing PR crises. Social media monitoring provides real-timer information, which is important during a crisis. This helps you to understand the situation better and come up with suitable measures to minimize the friction and improve your reputation.
Risk reduction
Risk mitigation is a multi-faceted undertaking that requires building a holistic understanding of how to protect your organization from potential risks. In the past few years, risk management has been one of the hundreds of terms thrown about in press releases and online posts relating to credit union technology. Enhancements have been introduced into various software products that speak directly to risk management or advocate that they have a risk management solution within their product. A media monitoring tool can do the same and filter out the risk factors.
Assessing your efforts
SEO is a roller coaster. It is full of ups and downs. It is the most hectic, yet comforting thing to have in one's life...or so it seems at times. It's important to evaluate your efforts from time to time, which can often get overlooked or forgotten about due to the many other things going on in our minds and schedules. By evaluating your efforts, you can gain more insight into your next plan of action while seeing if some input is needed from an external perspective. Evaluating also helps alleviate stress and anxiety that may arise from worrying that a losing streak is a reflection of your work or ability.
Knowing journalists and influencers for outreach
Who are the right bloggers to approach for an interview, guest post, collaboration, or other requests? Who are the journalists that could spread your message further?
Outreach is a tricky business, but with the right tools, you can make it much easier. Before starting any form of content promotion or outreach it's important to find the right people to pitch. You won't get very far if you pitch everything and everyone, so knowing where to focus your efforts is crucial.
Media Monitoring can distinguish:
Media monitoring allows you to know when your business, product, services, or even your competitors are mentioned in a publication or on a blog. It can help you identify what publications, websites, and blogs are talking about you, your industry, and your competitors
Who is talking about your client, your brand, or your industry? What are people saying? What are the trending topics? What are the most influential sources of information in my industry? Media Monitoring allows you to aggregate all of this information in one place. From articles, blogs, videos, and more to uncover trends and uncover key influencers. This allows you to keep on top of what's happening in your market."
Who should be using media monitoring
Media monitoring is a term that's thrown around. Every company wants to do it, but not everyone should. There are very specific benefits that come with using media monitoring for your company, and they aren't for everyone. If you are wondering if media monitoring is something you should be thinking about, this guide will help you decide if it's right for you or not.
Anyone and everyone should use media monitoring! I'm serious, anyone and everyone should be using media monitoring. It's not meant to be an exhaustive process because as such, it would take up far too much time (time that could be better used elsewhere). It's more about finding things as they happen – and react – before anyone else. If you think this might be useful for your company – if you think your clients will love it – then you should use it.
Media monitoring for crises
Crisis communication has always been one of the key tasks for public relations. It is also an area that requires constant monitoring and reacting to the developing media situation. The last few years brought new challenges to it with numerous social networks and digital information channels accustomed to receiving information in real-time. More than ever, good media monitoring is a key element for staying ahead of the crisis or at least minimize its adverse impact on your company or organization.
Choosing a media monitoring provider
Choosing a media monitoring provider can be a bit overwhelming, especially if you're new to the PR industry. Many service providers can help you with the points of media monitoring. Media monitoring tools can save your valuable time, space, and cost. These media monitoring tools can give you the solutions to your problems and get information on your competitors.
Media monitoring services
The difficulty of completing a comprehensive media monitoring service review cannot be underestimated. The sheer volume of the content and the high rate of change makes it extremely hard to inform consumers on what constitutes an effective media monitoring service or what are the benefits one should look for in such a service.
Media monitoring Tools
The ability to keep an eye on what's being said about your company or brand is a powerful tool – and a lot of organizations don't have it. Media monitoring can provide you with information about what's being said online, so you can respond quickly, and also track mentions of your competitors. This is important if you're in a PR crisis, as well as generally keeping track of your competition. In this era, we have many options for media monitoring tools, so whether you're a small business or a global corporation, there are myriad advantages that media monitoring and the tools can provide you.