Benefits of Choosing VeeTrack's Services
Fastest Delivery:
With the explosion of news and information sources, keeping track of what is being reported where, and when, is a colossal task for any company. News cycles today, are measured in minutes, not hours. VeeTrack's quick and on the dot services helps you by keeping a finger on the media pulse.
Comprehensive:
To keep a detailed track of the news, VeeTrack monitors information across a wide range of print and online media, including 400 editions of 137 news and business dailies, 90 magazines and bulletins, as well as over 68 e-news and online channels.
Relevant:
The data we track is customized according to our client's requirements and an understanding of their business. Based on these we track keyword based news, therefore, delivering relevant information to every client.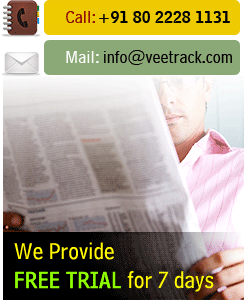 Accessibility:
All data is accessible online using a username and password. Classification and archiving allows for future retrieval of information.
Technology:
Our online portal is completely user friendly and customizable to your needs. Our IT team is constantly working on ways to improve the portal further, to suit user requirements.
Cost:
Our range of services is completely customizable and our clients have multiple options to choose from. They can either choose particular offerings, or the whole cycle of services. Thus, you pay for exactly what you need, depending on the range and depth of coverage sought.