Top 5 Blog Tracking Metrics to Evaluate Your Blog Performance
As a marketer you will surely know how rewarding blogging can be. Right from effectively reaching out to your target audience to building your professional network, blogging has become one of the most important things that a business or an individual can do to promote the business online. However, as a business owner or a blogger, it is also essential to know whether your commitment towards blogging is contributing to positive Return on Investment (ROI) or not. An ideal roadmap to grow your business online would be to monitor your blog traffic, increase engagement and then focus on lead generation.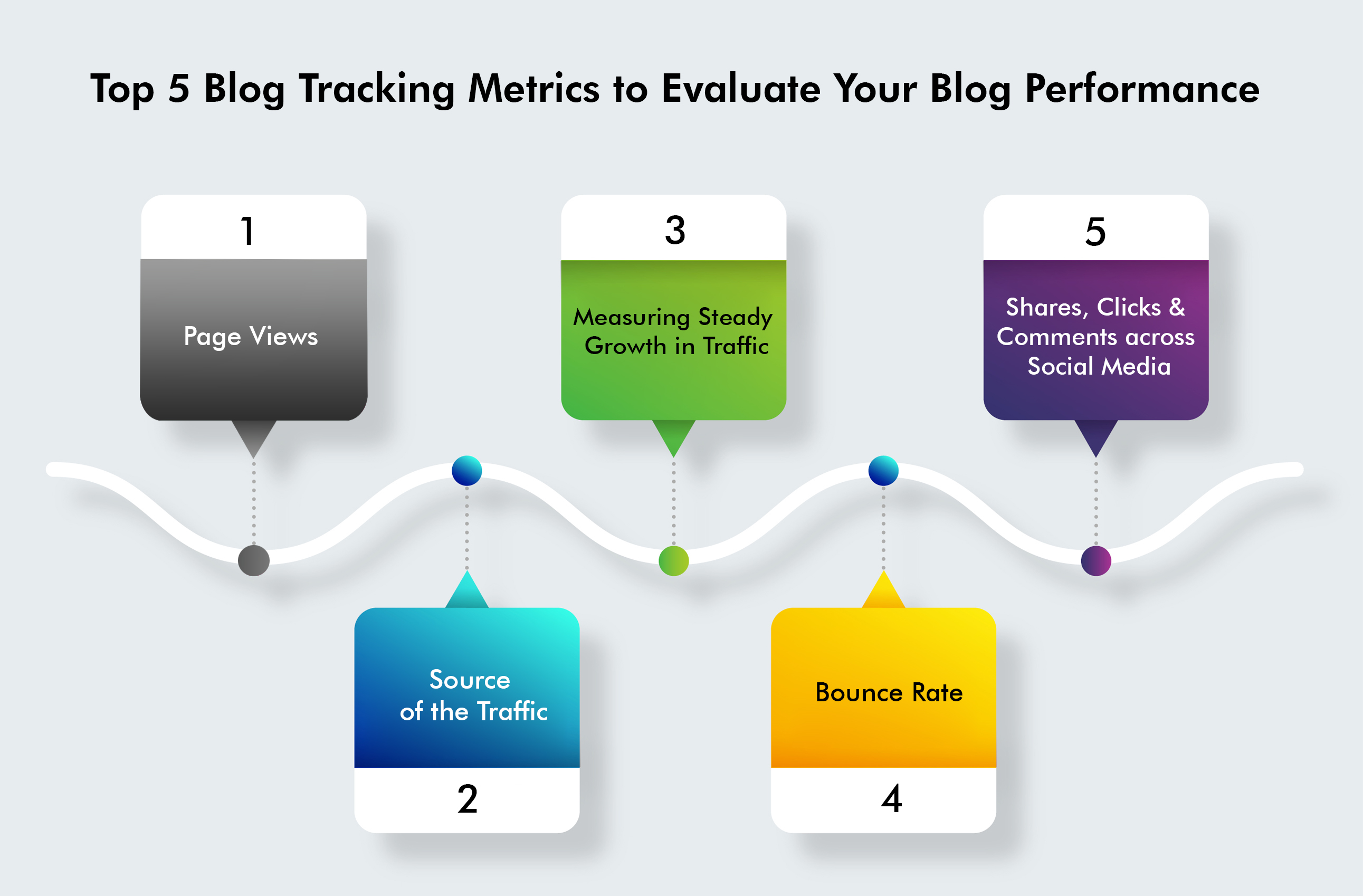 While there are numerous metrics when it comes to blog tracking, here are the top metrics that add up to the goals of individuals and business owners. These metrics help you understand what you need to do to grow your business and where can you improve along the way. If you are planning to get leads, increase your revenue and grow your business through blogging, then the following blog metrics will help you track the impact your blogs are making.
1. Page Views
There is no doubt that blog traffic is an important metric. However, it is important to know whether it is the kind of traffic that you want. This is exactly where page views come into picture. However, measuring page views will not be of any help if you are not sure of the kind of users visiting your blog. Page views can be an important metric only when you have a well-defined buyer persona with a content strategy aligned to it. In such case, the number of page views will be directly proportional to the leads you get. You can then quickly optimize your lead magnets and grow your business.
2. Source of the Traffic
Conversion pixel is a small code snippet placed at the back-end of your 'Thank You' page. Your prospects land here only after they convert on the post-click landing page. Every time when someone reaches this page the pixel will fire, reflecting in your ads manager. There are instructions to install the same.
3. Measuring Steady Growth in Traffic
Blogging will certainly show spikes in your website traffic. However, it is important to focus on steady growth in your traffic stream. One way to create gradual growth in baseline traffic would be to devise an effective Search Engine Optimization (SEO) strategy. Traffic from search engine is the most consistent. So, the best way would be to come up with strategies that yield steady organic search growth. The more you are established in your domain, the higher you rank on the search results.
4. Bounce Rate
If you intend to drive revenue through your website, then it is important to retain visitors on your website for as long as you can. When your website visitors stay on your website for long, they tend to engage with your business better. This also builds their trust in your brand, which is an important factor that drives purchase behavior. Therefore, it is important that you optimize your blogs to interest your target audience and keep them engaged.
5. Shares, Clicks & Comments across Social Media
Shares, clicks and comments on social media are indicators that help you understand the actual engagement level you can create with your blog content. People will be compelled to share your blog only when they appreciate its value. So, when they share, they will be passing on the trust they have in your brand. As a marketer, you can keep a track of the number of shares, clicks and comments and then display the social engagement counts on your website. This serves as a social proof for your brand.
Summing Up
While there are numerous blog monitoring techniques for marketers to choose from, the best option would be to define your goal and have a clear purpose. Metrics are parameters that help you to meticulously pursue your goal. With efficient blog tracking you will be able to know whether your marketing efforts are aligned with your business goal.