Active Social Media Monitoring to Manage Your Brand Health During COVID-19 Pandemic
Is COVID-19 pandemic taking a toll on your brand health? Well, do not panic, such is the case with most other online marketers too. At least 80% of all your social media feeds at this point will be on the deadly coronavirus. The COVID-19 outbreak has changed the marketing landscape by impacting user reach and user engagement. This is mainly because all your marketing plans are either cancelled, postponed or changed for good, as everybody is being terrorized by this pandemic.
While we take numerous precautions to safeguard ourselves and our families against this infection, it is high time that we take measures to save our businesses from taking an economic and reputational hit. If you are also one of those brands struggling to weather the storm and sail safe, then here are a few ways to go beyond traditional media monitoring services and keep your audience engaged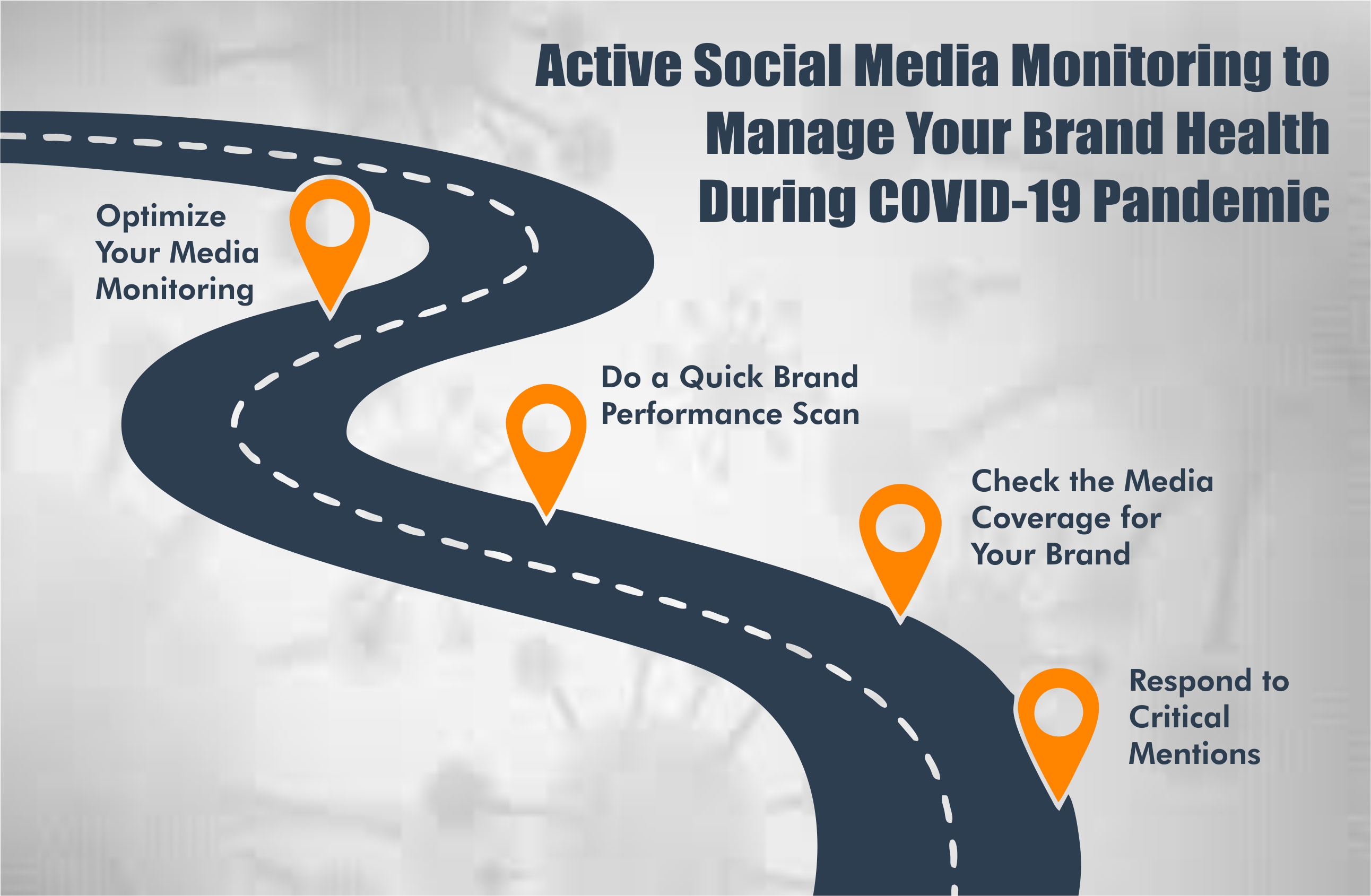 Carry out effortless reputation monitoring with the following media monitoring tips:
1. Optimize Your Media Monitoring
Continuously monitoring your brand mentions is the first and foremost step to manage your brand reputation efficiently. If you feel you already have all the necessary plans in place, your plans might need a little tweak here and there. One such example is setting alerts to monitor your brand mentions during the pandemic-struck time. This ensures that your brand mentions are regularly monitored and stay intact even in these times of crisis.
2. Do a Quick Brand Performance Scan
Explore social listening analytics to understand how COVID-9 affected conversations revolve around your brand. This involves the analysis of the volumes of the conversations, tones of the mentions, geographical distributions of the conversations, context behind your brand mentions, spot irregular activities and spot when your influencers mention your brand. By adjusting the time period, you will also be able to narrow down specific stats.
3. Respond to Critical Mentions
Once you get a generic idea about what is happening with your brand online, you can take a close look at all the mentions and start driving conversations. During a crisis, social media can be the place where your customers go to discuss it. You can just monitor your brand mentions and promptly respond only to those concerns and issues that need your immediate attention. First, address highly influential mentions because these are the ones that tend to blow up into a huge reputation crisis. Next, sort out relevant mentions and respond to those.
4. Check the Media Coverage for Your Brand
It is very important to know what kind of coverage your brand is getting. This becomes all the more significant in times of crisis. So, keep close tabs on the media coverage your brand gets through efficient social listening. Monitoring your social media and your website gives you a clear picture about the online performance of our brand.
Summing Up
Brand management during a crisis is as important as managing public health. You need every bit of compassion and support that comes from your target audience and customers. As the markets change, the consumer behaviors also keep changing. Monitoring this efficiently helps you to keep up your brand health even during a pandemic.