Top 3 Practical Reasons to Leverage Advertisement Tracking Services
Marketing in this digital era is incomplete if businesses fail to set up ad tracking. This is mainly because advertisement tracking services enable businesses to collect insightful and highly valuable user data from various digital ad campaigns. Today, ad tracking is one of the mandates for businesses and digital marketers who aspire to create new waves and succeed in their marketing goals. So, what exactly is ad tracking? This is a process of tracking the actual impact an ad channel makes through its advertisements.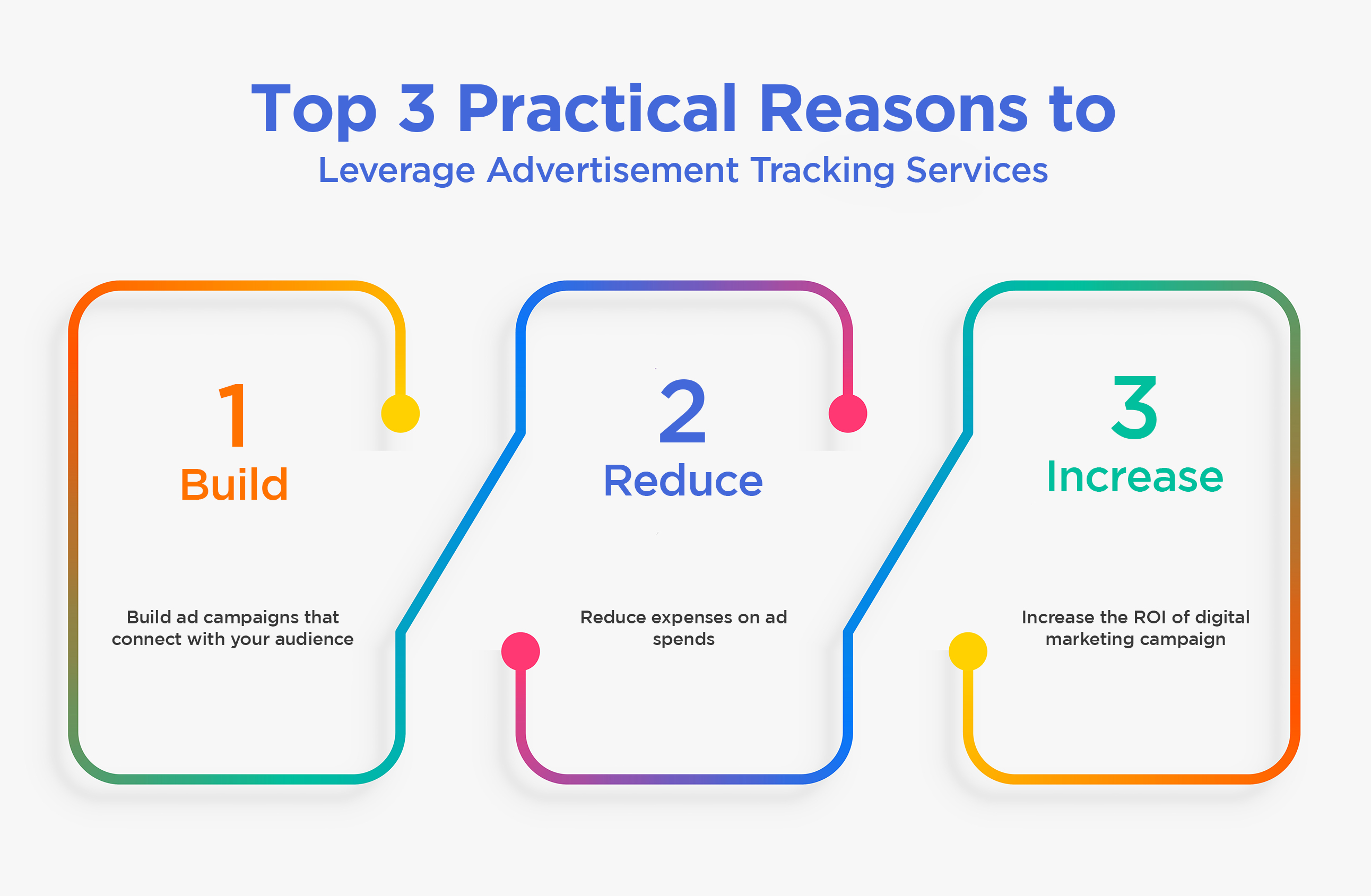 What is the purpose of ad tracking?
Ad tracking is mainly used to estimate the actual Return on Investment (ROI) for ad spends. It also helps to track the exact effectiveness of the ad campaigns and how much of the ad spends translate to increased sales. Today, considering the complex digital marketing scenario, many businesses prefer to leverage the capabilities offered by the best advertisement tracking company for ad tracking.
How Can You Tracking Digital Advertisements?
There are many ways to track the success of a marketing campaign, which include website analytics, tracking conversion of ad network, phone tracking, CRM tracking and KPI tracking.
Ad tracking is the vital piece of your digital marketing strategy, as it helps to determine what works and what does not in the very initial stage.
Discover more about our advertisement tracking services
to understand how we can curate specific services that boost your marketing efforts.
3 Practical Reasons to Leverage Advertisement Tracking Services
From established enterprises to small-sized businesses, investing in ad tracking has become a vital step for the new age marketers. Following three practical reasons explain the significance of ad tracking:
Build ad campaigns that connect with your audience – Ad tracking gives insights on interests, behavior, motivations and other aspects of your target audience, which helps to create relevant ads. If you do not do ad tracking, then you will miss out on these important insights, which help to shape your marketing campaign.
Reduce expenses on ad spends – Actionable insights provided by ad tracking helps marketers to improve ad targeting and refine ad copies, which help to improve conversion rates. When the ad copies are refined and the ad targeting is improved, it automatically decreases wasted ad spends.
Increase the ROI of digital marketing campaign – Incorporating the data from ad tracking into ads' targeting strategy can help businesses to improve their click-through rates, followed by higher conversion. Incorporating the data insights collected from advertisement tracking into landing pages can also enhance the overall user experience, making your website look more relevant to their requirements. This also reduces the bounce rates.
To Conclude
Better targeting, lower ad spend and higher ROI are some of the major benefits of leveraging ad tracking services. However, there are numerous other advantages too. These include, streamlining your ad tracking set up and uniting marketing initiatives across various channels.