Top 5 Ways in Which Media Monitoring Helps You Build Your Brand
Understanding the market and how your brand is perceived by your target audience is the first step towards long-term success. Knowing what people talk about your brand helps you to stay in loop and fine tune the way in which you cater to your target audience. This also helps to improve customer satisfaction.
However, it is important to stay updated with all the latest trends without actually running out of all your resources. This is exactly where media monitoring services can come to your rescue. Media monitoring helps you get everything from minor alerts to complete measurable reports.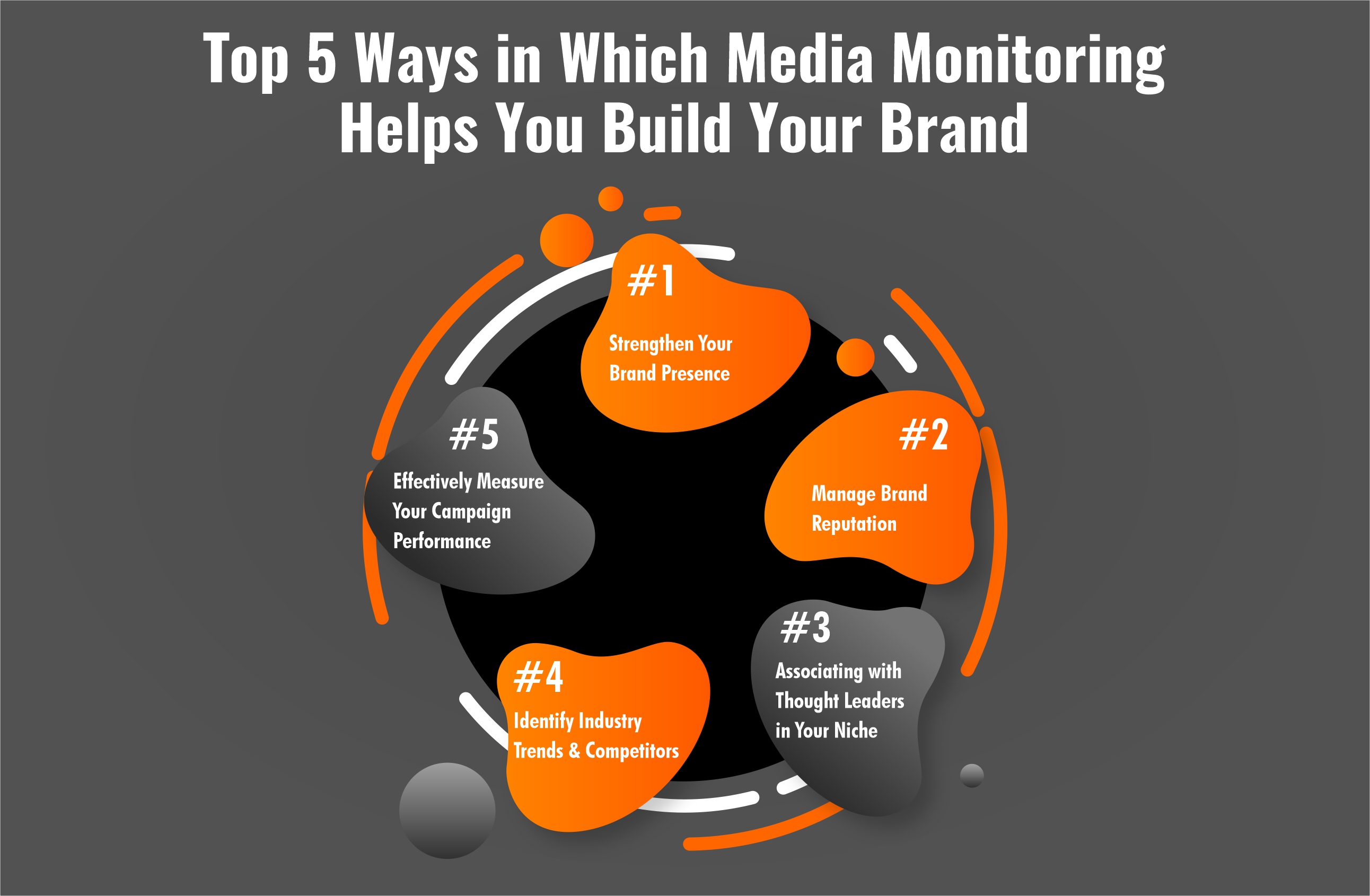 Here are 5 reasons for you to turn to media monitoring:
1. Strengthen Your Brand Presence
Social media monitoring solutions let you understand how your target audience perceives your brand. You can check whether they know that your brand exists and are they able to clearly understand what you offer. Also, you can quickly identify misconceptions and take suitable action to correct such delusions in the initial point. Next, any inconsistencies in your brand tone and your communications can also be tested and rectified at the earliest.
2. Manage Brand Reputation
The best media monitoring company allows you to closely follow everything that people write about your brand and the tone in which they discuss your brand.
Both negative and positive reviews spread quickly across social media, so it is essential to identify it as soon as possible. Monitoring tools timely notify all your brand mentions to which you can quickly respond. Prompt responses show customers that you really care about them.
3. Associating with Thought Leaders in Your Niche
Getting thought leaders in your sector to talk about your brand gives you an edge over the others. As people already perceive them as the specialists, associating with them will help you to skyrocket the awareness of your brand and increase your sales. Through media monitoring you can follow the right advocacies in your business and quickly associate with them.
4. Identify Industry Trends & Competitors
You can identify all the latest trends in your industry through media monitoring, predict possible spikes and forecast future industry trends. Once you are aware of all these, you will be able to plan better strategies. Apart from this, you can also know what strategies your competitors are following to engage your target audience.
5. Effectively Measure Your Campaign Performance
It is extremely important to know how your marketing campaign is performing. Without measuring this you will not be able to know whether your efforts are even getting any results. Media monitoring provides you with measurable data that proves the worth of your campaign. You can also get real-time alerts the impact of your campaigns.
To Conclude
By helping you monitor the trends in your industry, media monitoring helps you to stay motivated. You can understand what customers seek and what engages them better. Having this information under your sleeve will help you to design better marketing campaigns that effectively reach out to your target audience.